CIPD graduate, Immaculate, received a promotion whilst studying with AVADO!
I recently had the pleasure of meeting CIPD Level 5 L&D graduate, Immaculate Akinyi, who'd travelled all the way from Kuwait to attend her graduation ceremony In London! 
During the celebrations, Immaculate discovered she'd won an 'Inspirational Student Award' after her tutor nominated her for being a "Middle Eastern student who overcame the culture gap and really went from fundamental understanding, to introducing L&D to the company she works for." 
Here's what she had to say about her time studying with us… 
Why did you choose to study a CIPD qualification?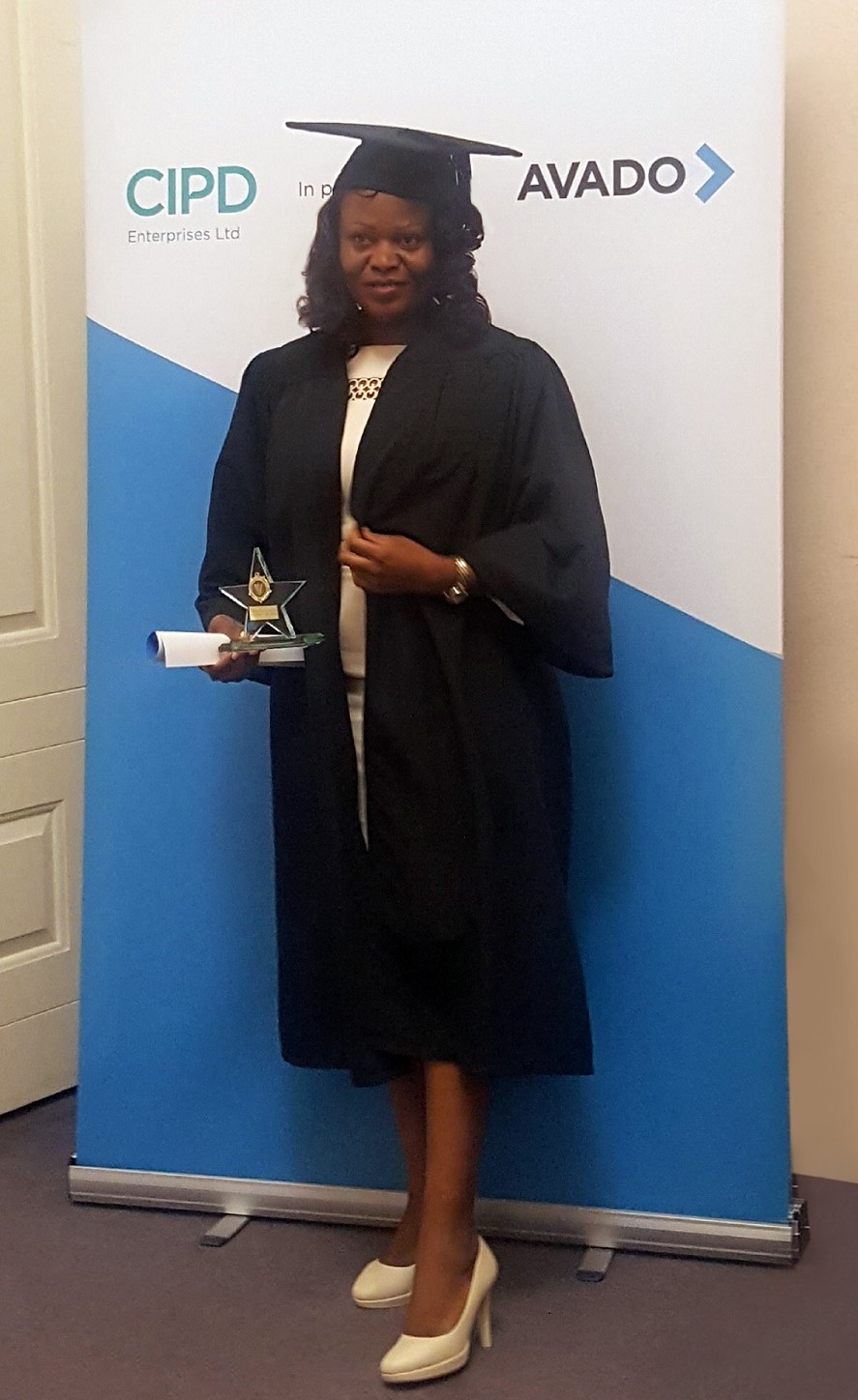 I chose to study CIPD because it's a professional body that's well-known globally, with very good reviews. I wanted to improve my skill-set and knowledge to stand out from my peers, and to have a qualification which was internationally recognised as I'm based in Kuwait in the Middle-East.  
What was the experience like, studying with AVADO? 
Studying with AVADO was very rewarding. I enjoyed the live classes where you got the chance to interact with different students from all over the globe. That was very, very helpful. We learned a lot and also the tutors were very supportive. That made me really feel like I gained a lot of "on the job" experience.  
How's your career progressed since you graduated? 
Actually, my career has really progressed positively! Towards the end of successfully completing the final unit, my boss put me forward for a promotion. In the end, I was promoted just before completing my qualification! This meant: more responsibility, credibility and I found myself even more motivated than before – it's been a wonderful journey. 
How has this helped transform your performance at work? 
It has really helped to change the way my organisation looks at L&D. We used to have training which was set for everyone. After starting my CIPD qualification, I applied what I'd learned, and we started having more business partnering. This meant understanding the need of the business, customising training to meet those business needs, and trying to utilise the model I really loved from the course (70:20:10). We just transformed the entire concept and now our Middle-Managers are much closer to their teams, and the entire organisation is very pleased with the results. 
One word to sum up your experience? 
Rewarding. And you can see (here, Immaculate showed me her "Inspirational Student" Award. This award was nominated by her tutor). Working full-time whilst studying, it's not easy but the results and receiving the award…apart from my promotion, everything's just been amazing! 
Any final words? 
I just want to say a big thank you for all your support and the emails that you sent. I have got many congratulatory messages from our corporate office appreciating how well I represented Jumeirah and for winning the award. 
I really appreciate your support and wish the best to all our Jumeirah colleagues who are currently studying and who will be enrolling for their studies soon. 
We are proud to partner with AVADO because of your professionalism and the support that your team extend to students, making the learning so fun and motivating! 
---
At AVADO, we're as much about learning as we are about people and making the experience as valuable as possible for students.