What are the top three reasons for studying CIPD? You might be surprised…
There are a lot of different reasons to start studying towards an online qualification. We wanted to know what drives our students, so we asked some of our CIPD HR Level 3 and 5 graduates about what motivated them to enrol.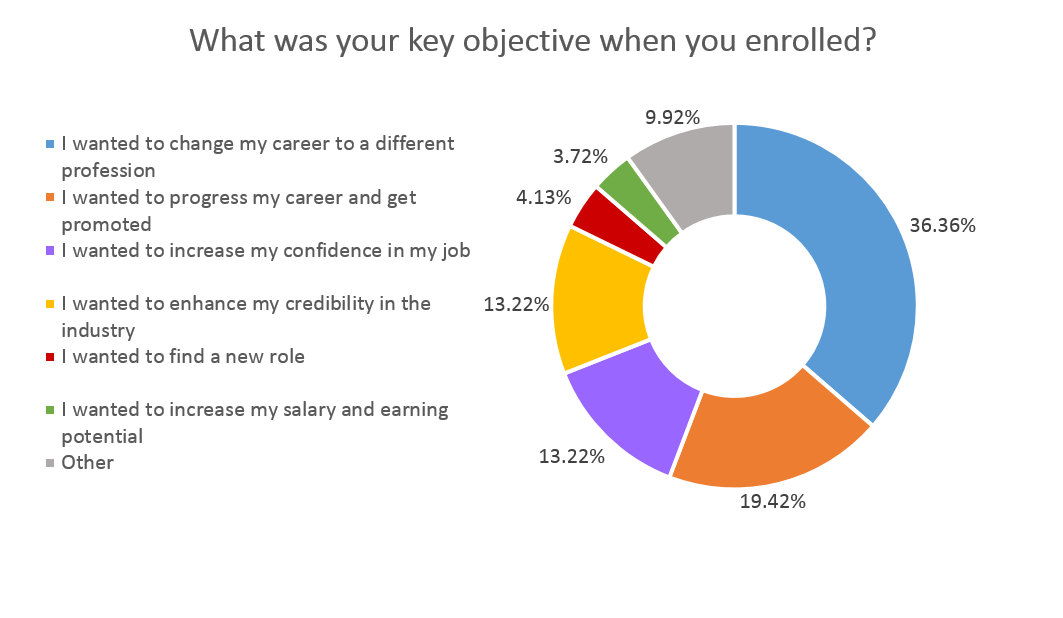 1. Career Change (36%)
The largest majority of our students were looking to change professions and start a new career. This comes as no surprise, as an online qualification is the perfect way to break into a new profession. All too often people looking to switch careers can find themselves in a "catch-22" situation where they need experience in their new profession to get hired, but can't gain any experience because they can't get hired. Online qualifications allow them to climb that crucial first step on the ladder while still working part or full time in their previous job.
2. Promotion (19%)
The next most popular motivation was those looking to progress in their current career and get promoted. A qualification is a fantastic way to prove to your employer that you're capable and dedicated enough to take on new responsibilities. Many employers even pay for their employees to gain qualifications, as upskilling existing workers can be more efficient than having to recruit new talent.
3. Gain confidence (13%)
Those looking to gain confidence or credibility both ranked equally highly in our survey. Interestingly, both score much more highly than wanting an increase in salary. There is an assumption that people are motivated mostly by money in the workplace, but in our experience of HR professionals, that simply isn't true. Increasing their earning potential is usually a factor in a student's decision, but the most motivating factors are more fulfilling careers and advancing their personal development. Confidence is a crucial part of job satisfaction and gaining new skills and the credibility a qualification brings is one of the most valuable benefits of getting professionally qualified.
So what have our students achieved?
74% of the recent graduates surveyed had already achieved their main objective since graduating with AVADO. Out of the students that said gaining confidence was their main objective, 100% of them said they had succeeded. In fact, on average our surveyed graduates said their confidence in their capabilities had grown by a huge 30%!
Do you have any of the same goals as our graduates? Why not get in contact and see if we can help you achieve them? Simply click here and fill out the form for more information, or give one of our friendly Course Advisors a call on 020 7173 5664.