You're the Judge- an engaging approach to ACCA study
You're the Judge is just one of the innovative and engaging activities that forms part of our ACCA course. We have recently launched the groundbreaking, first fully digital ACCA courses, and been awarded the Gold Approved Learning Partne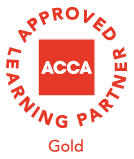 r status from ACCA. Our courses give students complete flexibility to study whenever and wherever suits them best, on mobile, tablet or laptop. Students study using our award winning Virtual Learning Campus (VLC), filled with a huge range of interactive and engaging resources that suit all learning styles.
The regular live online classes hosted by our expert ACCA Tutors give students the opportunity to interact with them as well as their peers in real time but with the option to catch up on recordings if needed.
Have a watch of two of our F4 videos lead by our Head Tutor Paul Kirkwood and ACCA Community Co-ordinator, Catherine. Paul cant resist a bit of fancy dress!
If you would like to find out more about becoming a Chartered Certifi
ed Accountant with us, or obtain further information about the qualifications we offer, complete the form on the right or call 020 8080 6490.