Andy Murray is a 22 year old from Cambridge currently studying for his AAT Level 4 Diploma in Accounting. He is our Student of the Month as he has shown outstanding determination and dedication whilst delivering a brilliant standard of work throughout his AAT pathway.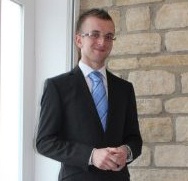 Andy left school at 16 and worked in the hospitality industry, specifically assisting with weddings for 5 years. After his Finance Director encouraged him to get involved in the accounts department, he discovered not only a natural aptitude but a genuine passion for accounting and got started on the AAT pathway with us in 2012, building his accounting skills.
With this qualification on his CV, Andy landed his first accounts role in 2013 as a Junior Accountant and found the course really helped him not only progress, but excel in this role.
After passing Level 2, he progressed through Level 3 at another exceptionally high standard and in June 2014 was promoted to Assistant Accountant with more responsibility, which the course syllabus really helped him to manage.
As with many distance learners, Andy faced challenges along the way; also juggling increasing amounts of work and social responsibilities, but he persevered and progressed due to his real enthusiasm for accounting and motivation to go the distance in the industry.
Although Andy's studies take up a lot of his spare time and sacrifices are made, the progress he has made on the AAT pathway has had extremely positive consequences on his career, making it entirely worth it. Now on the Level 4, Andy was promoted once again in November 2014 to Accounts Payable Manager and General Accountant, managing 3 people- very impressive considering he only started his first accounts job in 2013!
'Looking to the future I would like more exposure to all areas of finance and where my accounting career is concerned- the sky is the limit! When I complete the AAT pathway I plan to complete the CIMA and undertake a finance degree.'
Andy is the perfect example of a Student who has transformed their professional life and career goals thanks to the AAT qualifications via distance learning.
For more information on the accounting courses we offer and how they could transform your career fill out the form or please call a Course Advisor today 020 7173 5864.