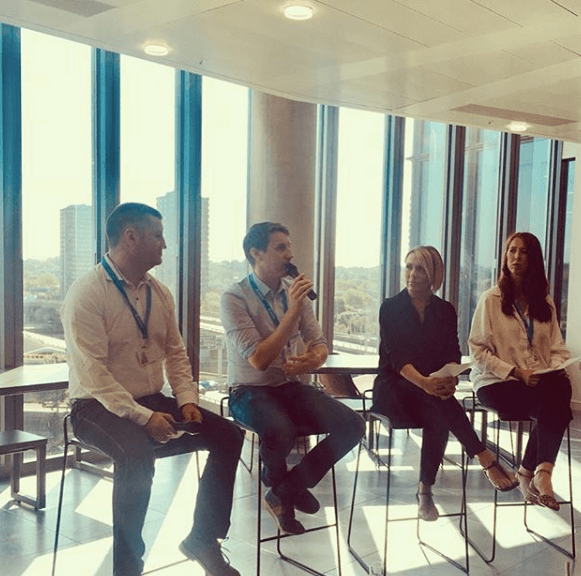 Now that we're drawing to the end of May, a time which is also known as "Mental Health Awareness Month", it is time to recognise mental health as something which transcends this time frame.
In the UK, 1 in 4 people suffer from mental health problems at some stage in their life. Mental health manifests itself in many ways; from the feeling of being overwhelmed to anxiety, from stress to depression. It must be looked after in the same way we treat our physical health.
On Thursday 17th May, during Mental Health Awareness Week, 4 members of staff at AVADO candidly shared their experiences of mental health. They expressed what it meant to them, how they've looked after their own mental health, and how AVADO members of staff can receive support if/when it's needed. 
Below are some of the things we learned from this panel, and from Blenheim Chalcot's* talk earlier that week.
*Blenheim Chalcot is the UK's leading venture builder whose ventures include AVADO.
1. Be active | Look after yourself
"Regular physical activity is associated with lower rates of depression and anxiety across all age groups" – Mind UK, 5 ways to wellbeing
Make sure you engage in regular social conversation – and laugh!
Take regular breaks
Exercise – whatever that means for you. If it's a walk outside for fresh air or running a marathon, it's all relevant
Make sure you've got a holiday booked in the diary – it's always positive to have something to look forward to
Get enough sleep – it's scientifically proven that poor sleeping patterns can lead to increased levels of stress and decreased levels of productivity.
2. Connect | Let's talk about it
"There is strong evidence that indicates that feeling close to, and valued by, other people is a fundamental human need and one that contributes to functioning well in the world." – Mind UK, 5 ways to wellbeing
Stay in touch with friends and family
Talk to someone instead of sending an email
Speak to someone new
Research something you've always wondered about
Get involved in a team event
3. Take notice | Be aware of other people
"Reminding yourself to 'take notice' can strengthen and broaden awareness. Studies have shown that being aware of what is taking place in the present directly enhances your well-being and savouring 'the moment' can help to reaffirm your life priorities." – Mind UK, 5 ways to wellbeing
Make time to pause in your day, outside of regular breaks (especially if you're really busy)

Check out a new lunch spot
Try a different route to get to work
Take notice of how your colleagues are feeling or acting
Get involved in the Advocates group!
Whilst having a month to recognise the significance of mental health awareness is tremendously important, it is even more so to recognise it all-year round. That's why, at AVADO, we're moving to sign the Time to Change Pledge with Mind and Rethink Mental Illness – both mental health charities. This is something we're proud to say that the venture builder behind AVADO, Blenheim Chalcot, has already done. 
To find out more on how your company can better support its' employees regarding mental health awareness and support, check out Mind and Rethink Mental Illness' Time to Change Pledge by clicking here.